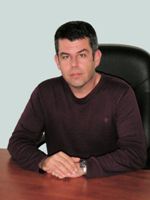 Sector: Division of Basic Medical Sciences I
Clinic/Laboratory: Department of Medical Physics
Knowledge Subject: Medical Physics – Medical Informatics
Research Area: Medical Physics, Biomedical Informatics
Dept. of Medical Physics, School of Medicine, University of Patras, GR-26504, Patras, Greece, Second floor, West wing of the PreClinical Faculty Building
TEL: +302610969113 FAX: +302610969166
EMAIL: gsak@med.upatras.gr
Summary of Curriculum Vitae
Dr. George C. Sakellaropoulos is Professor at the Department of Medical Physics, School of Medicine, University of Patras, Greece.
Born in Salonica in 1971, he obtained his Diploma in Physics from the University of Athens in 1993, M.Sc. (1995) and Ph.D. (2000) degrees in Medical Physics from the University of Patras and M.Sc. in Health Care Management (2006) from the Hellenic Open University.
He teaches Medical Physics, Biostatistics and Medical Informatics to students of the School of Medicine and the Physics Department as well as in the postgraduate courses in Medical Physics, Biomedical Sciences, Informatics for Life Sciences and Biomedical Engineering.
His research interests lie in the field of Medical Physics, Medical Informatics, statistical learning and decision support systems. He has authored or co-authored more than 90 papers in peer-reviewed scientific journals and 3 chapters in books. He has acted as reviewer or associate editor in many scientific journals and has been member of the program committee of many international conferences.